The daily headlines will return on January 4. Today we're counting down the top 10 water main breaks of 2009. On to the list.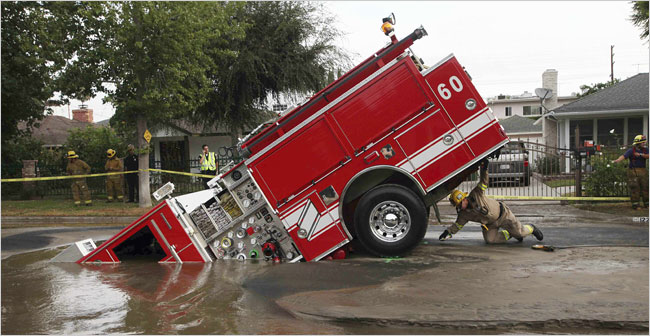 10. A 140-year old water main in New York City burst in August causing flooding in 15 residential and office buildings. A clothing store was the most affected having as much as $50,000 worth of merchandise badly damaged.

9. It's the kind of sinkhole you have to see to believe. A broken water main in Pittsburgh collapsed part of Smallman Street causing a major sinkhole.

8. A road in San Francisco disintegrated several weeks ago after a 100-year-old pipe broke causing four intersections to be closed while repairs were made. The break also caused flooding, a sinkhole 20 feet in diameter. Some businesses were affected by flooding and/or sludge from the break.

7. The Mayor of Warren, Michigan declared an emergency after 42 water main breaks broke in the span of a week. The emergency declaration allowed the city to hire outside crews without the city council approval to fix the gushing breaks.

6. On consecutive days in April, Baltimore was greatly impacted by water main breaks. All city buildings in downtown Baltimore and the federal and circuit courts were closed after a massive water main break. And the following day, MARC and Amtrak train services between Baltimore and Washington were suspended after a water main break.

5. A water main break transformed four blocks of the Bronx, New York into a swimming pool in June, flooding streets, cars and causing tens of thousands of dollars in damage.

4. US Airways canceled all flights into and out of Reagan National Airport the day after Christmas when a 6-inch water main caused 200,000 gallons of water to fill the terminal. The baggage claim was closed as well as the water was ankle-deep in some areas.

3. A 22-ton Los Angeles fire engine was swallowed by a huge sinkhole caused by a water main break in the San Fernando Valley.

2. Water gushed for hours in September from a broken 72-inch water main in the Baltimore, Maryland suburb of Dundalk , flooding several communities, drenching a shopping center and washing out a main road to the southeastern Baltimore County peninsula and stranding dozens or area residents.

1. It's not a single water main failure, but collectively I think it is the biggest water main break story of the year. In September, there were over 40 water main breaks in Los Angeles. The problem was so bad in fact that it led to the formation of a panel of engineering experts to examine why there were so many breaks.